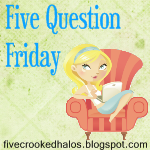 1. What is the one thing that you reach for the most in a day (excluding phones, computer or children's butts for spankings)?
When I am working it would be my scissor and clippers. Its part of the job, how else do you expect me to cut hair.
2. What is the farthest you have been from home?
The Caribbean. My husband and I went on a cruise for our honeymoon to St Thomas and St Maarten. Then this year for vacation to Grand Caymen, Jamaica, and Cozumel.
3. What kind of cell phone do you have? Love it or hate it?
I have a blackberry curve and I love it. I now text and do everything else I have never thought I would do with a phone. I don't know how I lived without texting or a blackberry before. The only thing I don't like about it is when my roller ball starts to stick.
4. Coke or Pepsi?
I don't normally drink pop of any sort. But when I do it is pepsi. My husband's family won't drink Coke so it is never around either.
5. If you could go back and change anything about your wedding day, what would it be and why?
There is a lot of I would change because I had so many things go wrong. If I could only choose one it would have been to hire a day of coordinator so hopefully things would have run more smoothly and we wouldn't have missed some big moments.