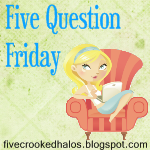 Want to join in on the Five Question Friday blog hop, check out
Mama M's
blog for details and all the links.
1. What is your dream job?
I swear this changes every week. One week I want to own/run my own hotel someplace nice and warm next week I want to work for Disney. Another week I think I may want to be a nurse, another week a stay at home mom. I'm young I can keep changing my mind right.
2. What song could you play over and over?
I am a huge Mandy Moore fan. I have evolved with her every time her music genre changes so does mine, well atleast I love all her music. I could listen to her songs over and over again with no problem. It always puts me in a good mood.
3. Do you prefer to talk on the phone or text (or email)?
It depends what I need to talk about. I prefer to talk on the phone, but I am addicting to texting lately. I do not text and drive though.
4. What is your must have beauty product?
I am a hairdress how can I just choose one. For my hair, right now my addicition is Sexy Hair- Blow It Up Foam it does great with holding my curls. I never leave the house without eyemake-up on. I have to atleast have some eyeshadow and mascara. It only takes me like 2 minutes to get ready since the only make-up I wear is eye make-up.
5. What is your favorite Michael Jackson song?
I must admit I am not a huge Michael Jackson fan. I do like his music but I am not crazy for him. A song I like from him off the top of my head is Smooth Criminal