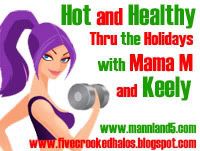 This was another week of not keeping up with the work-out schedule. I have just been really lazy this past
week for some unknown reason. I probably did about 30 minutes of extra cardio. I also didn't do any of the pilates.
However I did limit my fast food eating. I was getting carried away with this. I also have been good with drinking water.
This weeks goals are 3 days of each 3 pilates exercises, and 170 minutes of cardio.