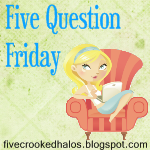 Brought to you from the wonderful
Mama M
. Want to join in the the blog hop? Check out
her blog
for more details.
1. Which boygroup did you like most in your teens?
My obsessioned changed all the time. It started with 98 degrees went to the Backstreet Boys, to Nsync, and back to 98 degrees.
2. Do you do Christmas cards, letters, photos, nuthin', all of the above?
Usually we just do xmas cards. Next year I plan on doing xmas photos
3. If you could meet one celebrity who would it be and why?
I would want to meet Mandy Moore. I am a huge fan,
4. Favorite thing to cook with (i.e. stainless, non-stick, Dutch oven, microwave, debit card...or, perhaps, a cauldron, etc.)?
I have/use/love Rachael Ray stainless steel cookware. I also have some pampered chef baking stones. (i am a consultant)
5. What is the one thing you wear the most, besides your unmentionables?
work clothes, i swear i like at work at times. besides that my husbands shirts. When we moved in with my parents I only brought 2 pj shirts so I am always wearing his shirts.