It's Friday again. This week has gone at lot better than last weekend. Hopefully this weekend goes by as smoothly as this past week.
It;s time for the Friday blog hop-
Be sure to check out
One 2 Try
.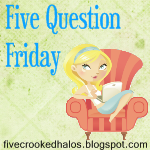 Check out
My Little Life
to join in.
1. How much time do you spend on the computer a day?
Way to much. Atleast a few hours.
2. Will you pay for your children's college or raise them to pay for their own way?
My parents payed for my college so I would love to pay for my childrens college. I think it shows they responisblity if they pay for some of it themselves.
3. Have you ever been in a car accident?
Yes, only 1. That was enough to scare the crap out of me. I had a little red cougar. I was at fault in a way. Long story. My husband, then bf had to be torn out of the car with the jaws of life. It was a side impact and the other driver pushed in my passenger door over a foot and a half. The whole car was twist.
4. What is your favorite book?
I don't think I really have one. I need to read more often.
5. Do you make your bed everyday?
Yes. well that is a lie. I do everyday as long as Dave is out of bed when I go to do it.
New this week is Fill in the Blank friday with Lauren over at
The Little Things We Do
1. The best day ever was .... The day I got married. All my dreams, wishes, etc came true.
2. My favorite meal of the day is... dinner. I love making homemade dinner and spending the time with my husband.
3. This weekend will be... Long I have to work all weekend. I hope it goes by quick and drama free.
4. Never in my life have I...
5. The only thing better than donuts is ... chocolate chip scones, my new love.
6. I could really do with some ... breakfast. I am to busy on the internet to get off my lazy but and eat something before I go to work.
7. The most recent thing I bought myself was ... a new pair of sunglasses