I can't believe it is already Friday. This week has flown by for whatever reason. I have to work tonight and tomorrow. Then I have off on Sunday. Not to much to look forward to, not to much going on this weekend on my end, besides grocery shopping. I would imagine that the guys will be in the garage working on the car, not surprising at all. I would rather have them in my garage where I know where they're at and can call them if I need them. But don't expect me to make dinner for everyone, we can't afford it and I don't want to.
I have hopped on board
Hearts Make Families
Friday Follow.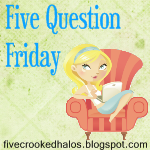 Five Question Friday with Mama M.
1. What's your guilty pleasure?
Chocolate, french fries
2. What is your favorite TV series?
I can't pick just one. I like Gossip Girl, Life Unexpected, 90210, Melrose Place, Vampire Diaries, and Secret Diary of a Call Girl.
3. Can you speak any foreign languages?
I know some french.
4. How many pairs of shoes do you own?
To many, or not enough
5. What's your favorite kind of M&M's...peanut, almond, straight up regular, etc.?
Peanut
I am also hopping on board
Kelly's Korner
Show us your life this week.
This week is - What is your typical day like.
I don't have a normal typical day. Since my work schedule is all over the place every day is different. I am married and work part time, but wanting full time hours. My husband also works two different shifts also. Here is my schedule for today.
- Alarm goes off at 7:30. I roll over turn off my alarm, grab the thermometer put it in my mouth. Fall half way back asleep. When the thermometer beeps i turn it off and put it back on the night stand and fall back asleep.
- Woke up at 8:30. Put contact rewetting drops in my eyes. Turn back on my thermometer to read the temperature. Right it down in my notebook next to the bed.
- Make the bed, organize the bedroom, take dirty dishes downstairs.
- Go pee (I know tmi), uncover the bunny, feed her and give her fresh water.
- Get the newspaper. Sit down at the table and flip through it.
- Put dirty dishes in the dishwasher.
- Go to the basement and do weekly cleaning (did most of it last night since I was expecting company)
- Eat breakfast. Watch tv, play on internet.
- Eat lunch.
- 1:30 get ready for work.
- 2:30 leave for work. Start work at 3. Work til 9.
- Come home and possibly make dinner.
- Watch tv, in bed by midnight.
Yah I live somewhat of a boring life. I know it won't always be that way so I am enjoying it while I can.