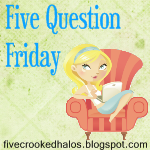 I have decided to start another blog trend that Mama M. has going on over at her blog http://fivecrookedhalos.blogspot.com/
If you want to play along click the button above to go to get blog for more details.
1. What is your favorite ABBA song?
I was never a big fan of ABBA, since they were before my time. But I love the A*Teens who redid a lot of their songs. I also love the movie Mama Mia. (I so need a dvd player in my room again so I can watch it.) I don't have a favorite cause I love so many. At this moment I love Super Trouper.
2. The thing you love most about fall is...
I love the changing of the leaves, the smell of fallings leaves, pumpkins.
3. What store you would love to spend to heart's desire (money is no object)?
I need new clothes. I would have to say either Kohl's of JcPenny's.
4. What is your favorite snack food?
That is a hard one. This week it is chocolate. I have a bag of Hersey's cookies and cream snack size candy bars I have been munching one.
5. What was your first car?
My first car was a 99 Mercury Cougar. I totaled about 3 years ago turning into a local Burger King and got hit on the passanger side. My husband (bf then) got pinned in the car they had to use the jaws of life. I twisted the uni-body. It was pretty bad when I was done with it.
This is me when I was 18.