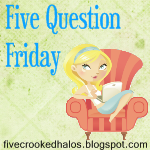 I haven't done thi Five Question Friday blog hop for a few weeks. Tiem to get back into the groove. Check out
Mama M's
blog for all the details.
1. Does Santa wrap the presents he leaves at your house?
Santa wraps his presents at my house. Growing up he even used the same wrapping paper, wasn't seperated, and had the same hand writing as mom. Wonder how that could be. Mental note, santa is suppose to use different wrapping paper, not have his presents in the same spot as mom's and dad's presents and diffreent handwriting.
2. When is your "big" Christmas celebration...Christmas Eve or Christmas Day? Tell us about it...
Everything is on Christmas day. We wake up at my parents house and open presents with my parents and sister. Then we go over to my in-laws and open presents with them (hopefully we don't have to do that this year since we aren't exchanging presents with them, just one less thing ot make the day khaotic). That is followed by either going to my extended family or his extended family then switching. It makes for one very long day.
Hopefully this will all change next year once we have a place of our own and we don't have to spend the night at our parents house. This will make things a lot less khaotic and I can put my little foot down of what we are going to do.
3. Are you big on keeping tradition every year?
I like to keep to traditions. My husband and I started a tradition last year of eatting lasgana for dinner then cuddling and watching a christmas movie. Some other traditions are going to look at christmas lights somewhere, and getting a real christmas tree.
4. Do colored lights or white lights tickle your fancy?
I am old school and love colored lights. It is a must to have colored lights on the tree. Right now I have a fancy for white icicle lights outside.
5. Do you decorate outside your house for Christmas?
Yes would be the short easy answer. I love houses decorated. My parents house (where we live right now) has colored icicle lights so far. More will be coming.