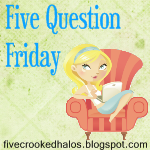 It's Five Question Friday. The great
Mama M
has started this blog hop to get some conversations flowing. What to play along, go over to copy the questions in your blog then go over to Mama M's blog to link up.
1. What is better, growing old with out money or dying young and wealthy?
I would rather grow old with out money. Money doesn't buy happiness
2. Who takes out the garbage at your house?
I get the garbage out of the bed rooms, bathroom, office, laundry room and take it to the kitchen. Then my husband empty's the kitchen garbage and takes it all to the curb.
3. Have you ever had the same dream many times?
Nope
4. Can you play a musical instrument?
I use to play the trumpet, drums, percussion and keys while in school. I can't play any of them anymore. I taught myself the keyboard and can still play that, but only with my right hand.
5. If you owned your own store, what would you sell?
Probably childrens clothes store. they just have the cutest stuff