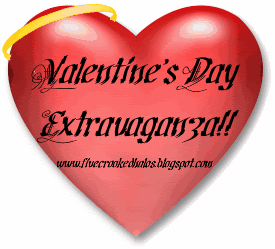 I got a little behind on the Valentines Extrvaganza blog hop that Mama M is having. I am making it all up today.
Day 4- Favorite Wedding Memory
Gosh. There are so many memories I have from my wedding. It was a long day with so much going on, way to much to pack into one day, and lots of problems. But we are here to discuss my favorite wedding memory.
If I had to to choose one. In the movie 27 Dresses, Jane played by Katherine Heigl, says that she likes to look at the groom as he first see the bride. That is one of my favorite memories is seeing David looking back at me with tears in his eyes. The photographer caught the moment well. Dave isn't one for smiling much. I also love this photo of me looking up at David and my father looking at me.
Day 5- Romantic Screw-up
I can't think of any off the top of my head.
Day 6- Five Question Friday
1. What is the one thing your love does for you that you can't live without?
hmm. I could name a few. I will keep it clean with his height. Incase you didn't know since he is a foot and a half taller than me. I married him for his height.
2. When did you know your love was "the one"?
After about 6 months of dating he moved away for college and came back a few months later. I knew then and so many other times
3. Does your love have a special ringtone on your cell?
No. I dont have anyones personalized
4. What are you attracted to most in your special someone?
His green and yellow eyes, perfect lips, perfect nose, his sense of humor...
5. Did you know when/where he/she was going to pop the big question?
I knew he was going to do it but didn't know when or how he was going to do it.
Day 7- Favorite Photo
I have a lot favorite photos. Here is one for one of our Engagement photo shoots.