Happy Valentine's Day everyone. Hope everyone had a great day with their loves. I have been sick all weekend so we have rain checked our date night.
The last day of the Valentine Extravaganza with
Mama M
.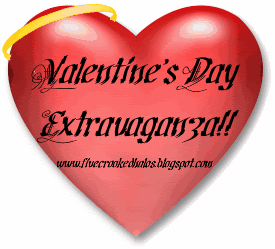 10 things you love about your love, in no particular order.
1- He always comes back upstairs in the morning to kiss me goodbye.
2- He does what he loves.
3- He is following his dream of owning a race car.
4- He supports me in everything I do.
5- He is going to be a great father.
6- He protects me, in so many ways.
7- I love the little notes he leaves on the fridge for me.
8- He eats everything I make even if it doesn't taste the greatest
9- He loves all my curves.
10- He choose me.
Getting to know you with
MannLand
1. Favorite Valentine's candy?
2. Pink or red?
Pink, hot pink
3. Will you be doing anything to celebrate today?
usually we go out to eat somewhere, but since I have been sick we have just stayed home. I did get chocolate covered strawberries, they were all out of grapes.
4. Do you put up Valentine's decorations?
yes
5. What does Valentine's Day mean to you?
just another day but I get candy and dinner
6. Would you rather get..flowers, candy, or a night out?
night out
7. Sexy lingerie or nothing.at.all?
sexy lingerie
8. Do you say Valentine's Day or Valentime's Day?
Valentine's
I am going to leave you with my valentines decorations around the house.