It's Friday. Here we are again with
Mama M's
blog hop for five question friday. Go on over to her blog for all the details of how to join in.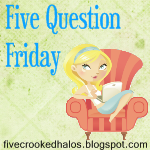 1. Do you sing karaoke? If so, what is your go to song?
When I was a teenager I was persueing a music career. I use to sing all the time, write my own songs, etc. I sometimes sang karaoke at family get togethers and while camping. I don't really have a go to song.
2. What is your favorite coffee drink?
In the winter I like an Chia Latte, in the summer, iced vanilla coffee
3. If you could choose your own name, what would it be?
I always wanted to be named Michelle. As I have gotten older I have learned to appreciate my name.
4. Were you ever bullied?
Yes
5. How often do you eat fast food?
To often. I try to limit it to once a week. It use to be every day.