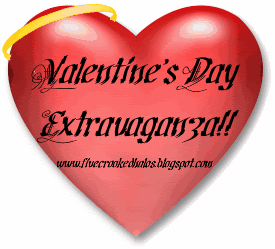 Mama M
is having another blog hop all week long in light of Valentine's Day. Check out her blog for all the details. Check back here each day for my post each day is a different topic. I am a day behind so there are two days worth of questions in one
Yesterday was: Tell me how you met your love?
Dave and I meet 8 years ago while we were both still in high school. I was a junior and he was a senior. We attended the local Vocational school, where students from 13 locals high school attend to learn a trade. I was in Cosmetology stuck with girls all day and he was in Auto Mechanic stuck with boys all day. Lunch class was the only time we had interaction and could really talk with others.
During lunch I start with a couple of girlfriends from Cosmetology class, and there were some other people who went to the same high school as one of the girls. At one time I was in a wheel chair (long story) and had to put my leg up. Dave just so happened to have been the one sitting next to me during lunch during that time and he became a great foot rest.
After I got out of the wheel chair, I wanted to go over my girlfriends house after school but we weren't aloud to ride each other buses. We asked around for someone to drive us home. Dave volunteered. We talked on the car ride and talked on the phone all the weekend. The next week he asked me out, in a note. It was so sweet. Our first date was on Valentine's Day.
Today's Question: Best Date
Gosh we have been on so many. How do I choose just one.
One that stands out in my head right now was when we were on vacation, well weekend getaway in Niagara Falls at this time of the year. It had to have been like 4 or 5 years ago. I was atleast 19, but not 21 yet. It was a Saturday and we went to lunch at the Skylon Tower. We had the whole place to ourselfs. We had a window seat over looking the frozen, partially running falls.
It was Dave's first time to Canada and to see the falls, plus seeing them frozen. It was so romantic to spend time along together, hold hands, cuddle to stay warm .... This was one of my favorite weekend getaways we have done together.