Today I am taking my sister and her co-worker to the calling hours of one our local police officers. He was killed early this week. He also worked at the grocery store with my sister and her friend as secruity at nights. It is such a sad story, he is leaving behind his wife and 3 beautiful daughters. Not the kind of fun anyone looks forward to. I have never been to a police officer funeral but know it is going to be crazy busy so we are going early since I still have to work today. So sad.
But it is Friday let this Fun friday blog hopping begin
<
1. Today I am wearing sa blue button up shirt, jeans and heels.
2. My favorite childhood food was burger king chicken sandwich and my favorite food now is anything homemade
3. A day that I am too busy to check out blogs is a day that I am to busy.
4. The last movie I saw was "My Best Friend's Girlfriend" and the next movie I want to see is "New Moon" ,well see it again I saw it once at the theatre
5. My favorite smell is my husband after a shower and putting on his cologne because it means we are going somewhere fun together.
6. A weird little quirk I have is I always have to drive. I hate other drivers. The only person I will drive with usually is my husband. Anyone else I volunteer.
7. When I take personality quizzes they always say the opposite of what I think I am.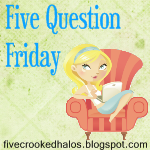 1. Have you ever had a celeb sighting?
Nope, I live in a small town nothing good ever happens here. Well unless you count I saw the top of the presidents head.
2. What temperature do you keep your house?
In the Winter Master bedroom at 68, Main floor set at 65, but is 69 in there, and basement is set at 65 when I am cold i will turn the gas fireplace up to 70.
3. Do you notice dust at other peoples homes?
yes
4. What's the worst job you ever had?
only have had one job
5. What is your most sentimental possession?
hmm i have no idea, maybe my wedding photos. my ring,