It has been a short fast week. I am ready for the weekend.
Tonight- I have to work. I can't complain that I have a job. I had off yesterday so it isn't to bad.
Saturday- I work til 2, then have to run to my parents to feed the cats. Oh the fun of house sitting. Then off to the race track. We are finally getting the car back out there after blowing the motor a few weeks ago. I am so excited and nervous at the same time. I am keeping my fingers cross that everything goes well.
Sunday- I have no idea whats going on yet. I don't know if I have to work or not, if my wonderful husband has anything planned. So it is a play it by ear for now. Oh I have to get some homework done sometime this weekend too.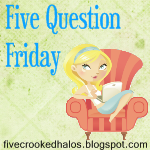 Im joining "
My Little Life
" again this week for Five Question Friday. Check out Mama M's blog for all the details to join in the blog hop.
1. Do you feel guilty spending money on yourself?
Yes. Especially right now when we are having some money issues. I have to stop buy things for myself that I don't need.
2. How well do you know your neighbors?
Not very well. We have talked to the one neighbors once when there was an accident at my house and they asked if everyone was ok a few days later, they also let me know that they cut my grass for me since they know there was a lot going on. The neighbors on the other side we say hi to all the time. My husband has talked to them more often than I do.
3. What age are you looking forward to being?
Ummm, I am not looking forward to any age. I had a quarter life crisis when I turned 25, in my eyes nothing looks up after this.
4. Do you get excited when the mail comes? Why?
I use to get so excited and what to be the one to get the mail. Now that all that comes in the mail is bills I am less than thrilled when it comes. I do get excited when I get a magazine in the mail, which is twice a month.
5. What is your earliest childhood memory?
The earlist thing I remember is when I was 2 and at Disney World. The rat from Robin Hood wanted a picture with me and I wanted nothing to do with him. There is a picture of this hanging in the hallway at my parents house, so do I really remember this or just the picture?
Follow Me Chickadee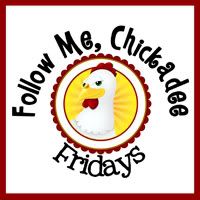 Go on over to MannLand for all the details on this blog hop too.