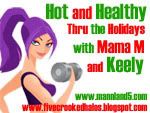 I did much better this week. The goals were to do 170 minutes of cardio, and 3 days of the pilates hundred. I did 150 minutes minutes of cardio (better than nothing) and the 3 days of the pilated hundred. I am very proud of myself for sticking with it this long. I have a little section to the left that I have been updating to show how I have been doing with this weeks goals.
We bumped up the cardio goal last week to 170 minutes...did you meet it? Exceed it? Coulda done better?
I did not meet the 170 minutes. But I did do 150. I think that is good for a start. I know I could have done better. I swear there just isn't enough time in the day.
How about the eating? Snacking less? Or "snacking smart"?
Yah that is a whole nother story. There is still quite a bit of halloween candy bars laying around the house. I am doing better at snacking at work. I am doing smart snacking.
How's the water consumption going?
I am doing pretty good with that. Usually all I drink is water. Now yesterday on the other hand I had a Pumpkin Spice Cappicino and didn't drink as much water.
Have you been trying Keely's recommended Pilates exercises?
I love pilates so I am doing this.