This week has flown by. It's time for the weekend. I have to work all weekend though and have nothing else planned. Maybe do some yard work that has really been laking this year.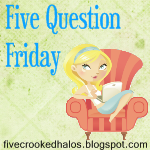 Wanna join in on the 5 Question Friday blog hop, go over to
My Little Life
for all the details.
1. How many pets do you have?
I have two fluffy kitties. Furball and Peaches. I also have some fish.
Here are my kitties when we got them when they still were nice to each other.
2. If you could switch places with anyone in the world for one day, who would it be?
Hilary Duff, I have an obsession with her right now. She young, gorgeous, career driven, and talented.
3. What is your favorite money saving tip?
My big money saving tip is if I don't have cash on me, I am more likely not to by something.
4. What do you want your kids to be when they grow up?
When I have kids I want them to be whatever their heart desires.
5. What is your favorite quote?
I dont really have a favorite quote right now.